I crossed two items off my bucket list today!
Not bad for a Wednesday!!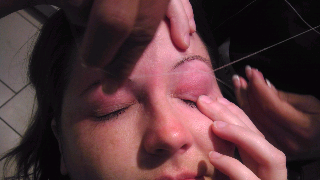 At lunch I headed to the mall to try Eye Brow Threading. Its a form of hair removal that was popular in Arab countries. Basically you use two twisted threads to pull out rows of unwanted hair. It is advertised to be painless... um they lie. It hurt A LOT. My eyes would not stop watering! I am actually very pleased with the end result! I usually just pluck at home and I am pretty happy with the results, but with threading it gets those blond hairs that can be hard to see. It was only $10 and hey now I have the experience!
After work I tried my first Bikram Yoga class. I of course purchased a Groupon and it was expiring today so I had to go... The class is 90 mins long and held in a heated room. I wasn't TOO intimidated by the heat, because I used to exercise in a heated room with the wrestling team. We were supposed to arrive in the classroom 15 mins before class to get acclimated to the heat... It was 95 degrees at the time. I thought, "Oh no problem I can handle this!"
Then the heaters kicked on... the last time I was able to check the temperature it was 105 and the heaters were still blowing.

I was surprised how many men were in the class and how many people of all shapes were attending as well...Made me feel more comfortable. I still really hated to look at myself in the mirrors for 90 mins.
I did pretty well with the Yoga part of the class... pretty decent balance ... a lot of room to grow on the stretching... but the heat REALLY got to me. At one point I was certain I was going to pass out (I didn't I just sat down) and several other times I couldn't participate because I was too dizzy.

I know part of this is because I don't drink enough water, but it was seriously HOT in there. I am not much of a sweater and my entire shirt was soaking wet when I left class...
I have 30 more days to go again... luckily we are going on vacation this weekend so I have an excuse for not to got for a few days at least!.
I am proud of myself for stepping out of my comfort zone and doing these two things... isn't that what the whole bucket list is for? New experiences and to grow and learn.
Now its 7:45 and I am going to BED! Okay I am going to go read for awhile and then go to bed!